1934 – 2013
Ceramist, Author, Publisher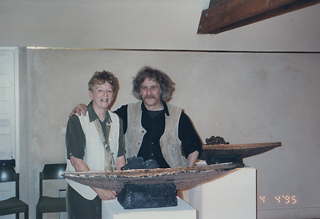 JANET Mansfield's achievements added up to several lifetimes' worth: potter, exhibitor, writer, editor and publisher, judge and jurist, diplomat, traveller.
Her lifetime involvement with the ceramic arts ended earlier this month, after a struggle with cancer.
Mansfield was born in Sydney and studied ceramics at the National Art School, East Sydney Technical College, during 1964-65.
She was highly regarded in the field of art ceramics in Australia and her considerable contribution to that art has been acknowledged by awards including an honorary Doctor of Letters from the University of Tasmania in 2004, and the Australia Council for the Arts Emeritus Award in 1990. This is a distinction awarded to few Australian artists in any medium. The even greater honour of the Medal of the Order of Australia in 1987 is recognition of her value to the nation. Her international contributions have been widely recognised at the highest level – for example, by the award of honorary membership by the US ceramics organisation NCECA in 2003. She is one of few non-US citizens to receive this honour.
Within Australia and later internationally she was in constant demand as a speaker and judge of competitions. She organised a series of events in Gulgong, the small town in NSW near the family farm, Morning View. These gatherings, renowned among Australian ceramicists, have helped expand the network of contacts that has led to the internationalisation of Australian ceramics.
Mansfield served as editor of the magazine of the Australian Potter's Society, Pottery in Australia, and as the president of that organisation from 1976 to 1989.
She was active in the Crafts Council of NSW (president, 1972-73) and later the Crafts Council of Australia, where she was an executive member from 1971 to 1975.
Subsequently, her courage in the face of risk was well illustrated when she launched the magazine Ceramics: Art and Perception in 1990. The challenge was getting a new publication out there and making it viable. The risk was compounded by styling it from the beginning as the international ceramics magazine. Eventually she took Australia to the world through this and her subsequent magazine, Ceramics Technical. Her authorship of six books (the most recent, Ceramics and the Environment, was published in 2005) on Australian and international ceramics was enriched by her broad acceptance of a diversity of ceramic styles, an asset that helped her become a successful publisher and editor. Her publishing company, Mansfield Press, was her most recent venture, with several books published.
In the role of diplomat she has unequivocally been the most important figure in Australian ceramics, working as an agent for international exchange. In her wide travels she participated in international juries, symposiums, conferences and workshops, ultimately becoming president of the International Academy of Ceramics from 2006 to 2012. Her sociable personality helped create opportunities for contacts between ceramicists internationally.
She worked as a ceramicist alongside all these other activities, with 35 solo exhibitions in Australia, Japan and New Zealand, and involvement in group exhibitions in more than 20 countries. Her work is represented in most Australian public galleries, including the Australian National Gallery, and internationally including the United States, Hungary, Japan, Britain, New Zealand, Canada, Norway, Czech Republic, Germany, Switzerland and China.
Elaine Olufsen Henry, the current editor-publisher of Ceramics: Art and Perception and Ceramics Technical, has said: "The international contributions that Janet Mansfield made to the ceramics community are unprecedented and unsurpassed. Combining her love of the ceramics field worldwide with her affinity for words and language, Janet was able to change the world of ceramics publication and elevate it to a new level.
"This does not even touch on her many accomplishments and teachings as a ceramics artist. We have lost an international treasure. Her devotion to ceramic art, personal vibrancy, intelligence and generosity of spirit made the work of makers, thinkers and writers throughout the world feel more connected, thoughtful and meaningful."
Dr Owen Rye